Melaleuca: Make it Public
Friday 29 Jun 2018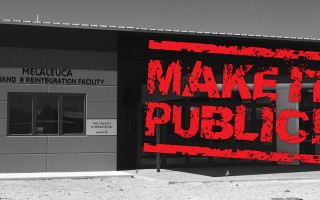 The WA Prison Officers' Union (WAPOU) is calling on the State Government to take immediate action and put an end to the private contract of Melaleuca Remand and Reintegration Facility following a damming report.
The Office of the Inspector of Custodial Service's Report echoes the safety concerns held by WAPOU members. But perhaps what is more alarming is that the Report's findings were observed over just a one-month period and is only a snapshot what really goes on at the Sodexo run women's prison.
WAPOU Secretary Andy Smith said the Report commends the dedication of the prison staff at the facility but highlights a range of problems from poor infrastructure, to staff shortages and safety.
"Our members are also reporting very dangerous working conditions with daily reports of serious incidents and injuries," he said.
"An unacceptable number of prison officers at Melaleuca are either injured or off work on workers compensation and too many are leaving the facility in the back of ambulances with broken bones and other serious injuries.
"Last month we saw nine officers taken to hospital suffering smoke inhalation after a fire broke out within the prison and some of those officers had to drive themselves to hospital.
"Members told us the fire extinguishers were out of date and breathing apparatus wasn't immediately available.
"Melaleuca has been riddled with problems since it opened in 2016, we've seen understaffing and inadequate training, a high number of assaults, breaches of safety guidelines and excessive drug contraband.
"Our members feel their concerns are being ignored by management and many are reluctant to raise concerns for fear of being targeted and bullied by management.
"We are aware that Sodexo regularly receive financial penalties from the Department of Justice for breaches of its contract.
"Put simply, Sodexo has shown it is not fit to run a WA prison," Mr Smith said.
WAPOU is calling on the State Government to take immediate action to end Sodexo's contract and take control of what should be a public facility.