Verbal updates from Branch Representatives to October State Council
Thursday 08 Nov 2018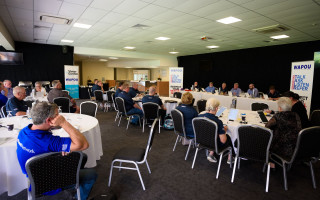 Acacia
No delegate present.
Academy
No delegate present.
Albany
No delegate present.
Bandyup
Current dispute involving application of Standing Order E6 and reduction in services when VSOs redeployed.
Some officers are being redeployed up to seven times during a single shift.
OHS concerns regarding lack of emergency egress, barrier controls and restraint equipment.
Discussion around Unit 1 becoming a 'mental health unit'.
Issues regarding availability of staff meals.
Discussion around application of Policy Directive 26 in relation to pat searches.
Boronia
Broome
Current disputes regarding funeral escorts and peak muster position on nights.
Dispute regarding 80 hour orientation resolved.
Staffing issues requiring further recruitment and the actioning of transfers.
No recreation being run currently due to infrastructure works.
Ongoing coronial inquiry into death in custody.
Bunbury
Issues covering vacancies on overtime.
Unit 5 opening delayed due to high number of vacancies.
The new build has got off to a slow start.
A number of minor disputes.
A dispute has been lodged regarding non-compliance with Standing Order E6.
Operation Contra has resurfaced under a new name, causing an increase in workload.
Casuarina
No current disputes.
LCCs running well.
Issues covering shifts on overtime leading to daily shortages and a reliance on Standing Order E6.
Approximately 60 Casuarina Officers are currently on Workers' Compensation.
There has been a marked increase in assaults on staff.
DDU
Discussion around the Department's the possible introduction of 'General Purpose Dogs'.
New Zealand has made advancements in the detection of synthetic cannabis.
Discussion around on-body camera trial.
Possibility of Officers being issued iPads for use in prisons.
A push for the DDU to be utilised in the drug and alcohol testing of prisoners.
Eastern Goldfields
Discussion around recent media coverage in Kalgoorlie around staffing issues and current capacity (front page of the Kalgoorlie Miner, TV and radio).
An update on the need for an attraction and retention package.
There have been up to 18 mattresses on the floor in unit 1 in recent weeks.
A good outcome was reached in a stage 2 dispute regarding staffing in Unit 3.
Vacant VSO positions are slowly getting filled.
Three assaults on staff in October.
Commissioner Hassall met with staff Tuesday 30 October regarding attraction and retention.
90 of EGRP's 137 Officers are currently on transfer lists.
Greenough
Local management pushing for an increase in unlock hours as repairs progress.
Infrastructure slowly coming back online.
Second group of seconded prison officers now in place.
Several payroll issues for first group of secondees slowly getting resolved.
Discussion around the return of female prisoners in the aftermath of the riot.
Several Officers are yet to return to work following the riot. Some may not return at all.
Hakea
Both the Minister and the Commissioner have recently visited Hakea.
Infrastructure works in Unit 8 have reduced prison capacity.
Discussion around the current Staffing Level Agreement negotiations.
The Department are looking to withdraw SOG Officers from the Pod. This will result in massive training requirements for Hakea officers.
Karnet
Entire management team are currently acting in their respective roles.
Issues with Officers being denied representation during investigation interviews.
Issues with PDAs being out-of-range in some areas of the prison.
Recent issues regarding an outbreak of 'swine flu'.
Ongoing issues with water quality.
Discussion around Job Share and overtime.
Melaleuca
No delegate present.
Pardelup
No substantive management (all acting).
3 VSOs short and one officer short.
Potential muster increase of 15.
Roebourne
Security Manager recently walked off-site following a series of concerns raised by WAPOU members.
Emerging OHS issue regarding building works in the kitchen and discovery of asbestos.
SOG
Currently short-staffed and an advertisement has been published for external recruitment.
Operation Intercept is causing a reduction in response capabilities during nightshifts.
Ongoing issues with SOG management regarding changing the hours of duty for officers.
Ongoing issues regarding requirement to perform handover in own time.
Wandoo
No delegate present.
West Kimberley
No delegate present.
Wooroloo
Several disputes resolved while substantive Superintendent was on annual leave.
Potential muster increase of 48.
Issues with new prisoner accommodation discussed.
Work Camps
No delegate present.